Image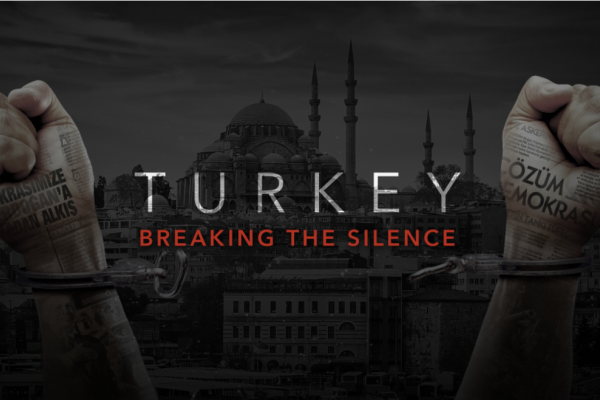 April 19, 2021
9:10AM - 10:05AM
Date Range
Add to Calendar
2021-04-19 09:10:00
2021-04-19 10:05:00
Discussion of "Turkey: Breaking the Silence"
What: A discussion about the media environment in Turkey When: Monday April 19, 9:10-10:05 a.m. EDT In the two decades under Turkish President Recep Tayyip Erdoğan, press freedom has eroded. During his tenure, Turkey is now the top jailer of journalists in the world and government censorship is on the rise. Voice of America's new documentary, "Turkey: Breaking the Silence," profiles citizens, journalists, and activists whose stories help explain the forces driving media repression. The film reveals how deep divisions in Turkish society and politics, combined with autocratic power, have evolved to repress critical news coverage and stifle free speech. We invite you to a discussion of the film and the Turkish media environment featuring the film producer, VOA Executive Producer Beth Mendelson; and Melek Caglar, Managing Editor of the Voice of America Turkish Language Service. Senior Lecturer Danielle Schoon, who teaches the Turkish Studies curriculum in Ohio State's Department of Near Eastern Languages and Cultures, as well as courses in immigration in the Sociology and Political Science departments, will serve as a discussant. We will be looking at how different people in the film discuss issues in the media and how other perspectives might differ on press freedom. Questions from participants will be welcome. We ask that you view the 40-minute film, Turkey: Breaking the Silence, prior to the event. Here is a 90-second trailer for the film. Advance registration is required for this session. Please use this link to register: https://osu.zoom.us/meeting/register/tJEpc-qppz8oGNX2VcgDu0OA1uq8Nmsl4Usg After registering, you will receive a confirmation email containing information about joining the meeting. For information please contact Jeff Trimble trimble.102@osu.edu or Melinda McClimans mcclimans.2@osu.edu    
Zoom
OSU ASC Drupal 8
ascwebservices@osu.edu
America/New_York
public
Date Range
Add to Calendar
2021-04-19 09:10:00
2021-04-19 10:05:00
Discussion of "Turkey: Breaking the Silence"
What: A discussion about the media environment in Turkey When: Monday April 19, 9:10-10:05 a.m. EDT In the two decades under Turkish President Recep Tayyip Erdoğan, press freedom has eroded. During his tenure, Turkey is now the top jailer of journalists in the world and government censorship is on the rise. Voice of America's new documentary, "Turkey: Breaking the Silence," profiles citizens, journalists, and activists whose stories help explain the forces driving media repression. The film reveals how deep divisions in Turkish society and politics, combined with autocratic power, have evolved to repress critical news coverage and stifle free speech. We invite you to a discussion of the film and the Turkish media environment featuring the film producer, VOA Executive Producer Beth Mendelson; and Melek Caglar, Managing Editor of the Voice of America Turkish Language Service. Senior Lecturer Danielle Schoon, who teaches the Turkish Studies curriculum in Ohio State's Department of Near Eastern Languages and Cultures, as well as courses in immigration in the Sociology and Political Science departments, will serve as a discussant. We will be looking at how different people in the film discuss issues in the media and how other perspectives might differ on press freedom. Questions from participants will be welcome. We ask that you view the 40-minute film, Turkey: Breaking the Silence, prior to the event. Here is a 90-second trailer for the film. Advance registration is required for this session. Please use this link to register: https://osu.zoom.us/meeting/register/tJEpc-qppz8oGNX2VcgDu0OA1uq8Nmsl4Usg After registering, you will receive a confirmation email containing information about joining the meeting. For information please contact Jeff Trimble trimble.102@osu.edu or Melinda McClimans mcclimans.2@osu.edu    
Zoom
Middle East Studies Center
mesc@osu.edu
America/New_York
public
Description
What: A discussion about the media environment in Turkey
When: Monday April 19, 9:10-10:05 a.m. EDT
In the two decades under Turkish President Recep Tayyip Erdoğan, press freedom has eroded. During his tenure, Turkey is now the top jailer of journalists in the world and government censorship is on the rise. Voice of America's new documentary, "Turkey: Breaking the Silence," profiles citizens, journalists, and activists whose stories help explain the forces driving media repression. The film reveals how deep divisions in Turkish society and politics, combined with autocratic power, have evolved to repress critical news coverage and stifle free speech.
We invite you to a discussion of the film and the Turkish media environment featuring the film producer, VOA Executive Producer Beth Mendelson; and Melek Caglar, Managing Editor of the Voice of America Turkish Language Service. Senior Lecturer Danielle Schoon, who teaches the Turkish Studies curriculum in Ohio State's Department of Near Eastern Languages and Cultures, as well as courses in immigration in the Sociology and Political Science departments, will serve as a discussant. We will be looking at how different people in the film discuss issues in the media and how other perspectives might differ on press freedom. Questions from participants will be welcome.
We ask that you view the 40-minute film, Turkey: Breaking the Silence, prior to the event.
Here is a 90-second trailer for the film.
Advance registration is required for this session. Please use this link to register:
https://osu.zoom.us/meeting/register/tJEpc-qppz8oGNX2VcgDu0OA1uq8Nmsl4Usg
After registering, you will receive a confirmation email containing information about joining the meeting.
For information please contact Jeff Trimble trimble.102@osu.edu or Melinda McClimans mcclimans.2@osu.edu
---