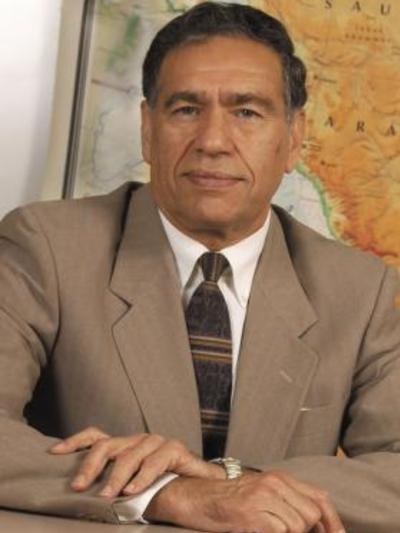 Alam Payind
Director
Enarson Classroom Building, Suite 145
2009 Millikin Rd
Columbus, OH
43210
Areas of Expertise
Islamic Jurisprudence
Geopolitics
Education
B.A., Kabul University, Political Science and Islamic Studies (1966)
M.Sc., Indiana University, Higher Education (1972)
M.A., Indiana University, Political Science (1977)
Ph.D., Indiana University, Political Science and Higher Education (1977)
Alam Payind, Director of the Middle East Studies Center at the Ohio State University since 1986.

Dr. Alam Payind is the Director of the Middle East Studies Center (MESC), a senior teaching member of the International Studies Program and the Near Eastern Languages and Cultures department, a liaison for the Office of International Students and Scholars, and a member of University's International Programs Task Force. Born and raised in Afghanistan, and previously a holder of government and academic positions in Kabul, he speaks Pashto, Dari and Urdu with native fluency. He continues to conduct field work, provide consultations on a regular basis in Afghanistan and has visited the country 13 times since September 11th, 2001. He travels extensively within the Afghan borders, and during recent trips he has been witness to the Taliban's resurgence in Kandahar, Helmand, Zabul, and other provinces of Afghanistan.  He has recited the poetry of Khosh alKhan Khatak, Hafiz, Maulana Jalal Eddin Rumi to audiences throughout the world, and many others from the Pashto, Persian, Urdu cannons, in addition to his own works. 

Besides being a professor at the Ohio State University, he is still part of the faculty at Kabul University in Afghanistan, and is a consultant to the Afghan government in its educational reconstruction efforts.  In late 2006, Dr. Payind was appointed as Ambassador of Afghanistan to the United Kingdom which he turned down for personal and professional reasons.  He received his Ph.D. in Political Science and Higher Education, as well as an M.A. in Political Science in 1977 from Indiana University, his M.Sc. in Higher Education from Indiana University in 1972; and his BA in Political Science & Islamic Law from Kabul University in 1966. 

Dr. Payind served in the Afghan government as the Director General of Cultural and Foreign Relations, and was a professor at Kabul University before the Soviet invasion in 1979 forced him to seek refuge in the US.  Dr. Payind has seen Afghanistan through many phases: under King Zahir Shah, President Dawud, the ten-year Soviet occupation of Afghanistan, the Mujahiddin regime, followed by the Taliban regime, and the US-led invasion of Afghanistan, and subsequent Karzai government.  Unlike most political scientists, he has fluency in the languages of the region he studies and literary competence, as well. His combination of academic qualifications and life experience uniquely qualifies him to give the cultural, historical, and current social context for recent events.
Dr. Payind is a founding member of the National Council of Area Studies Center Directors, and a board member and former president of the Eastern Consortium in Persian and Turkish. His concurrent appointments and position on the task force provide MESC with a strong link to the academic units charged with administering and realizing the university's international vision and education goals. Dr. Payind has a direct impact on students lives as an advisor for Middle Eastern students adjusting to American educational system and culture, and to American students majoring in Middle Eastern and Islamic Studies. He teaches International Studies 2200: Introduction to the Modern Middle East, and the interdisciplinary upper-division International Studies 5645: Contemporary Issues in the Middle East, offered through International Studies and Near Eastern Languages and Cultures. He co-directs the Center's Summer Institute on Middle Eastern Cultures with Professor Merry Merryfield, and has taken the lead role in organizing area studies centers' support for her online course and web site on global studies and world cultures. In addition, he provides vital consultations to press and news agencies on Middle Eastern affairs and delivers an average of 70 public lectures on Middle Eastern issues per year.

Courses taught at OSU: Introduction to the Modern Middle East; Contemporary Issues in the Middle East; Group Studies; Cultural Continuity & the Challenge of Political, Economic, and Social Transition in the Middle East.

Other Positions Relevant to Middle East Studies: Director General, Office of Cultural and International Relations, Kabul, Afghanistan (1972 - 1973); Professor of Political Science and Associate Director of Research Institute, Kabul University (1973 - 74); Director, International Center, Indiana University (1978-80); Curriculum Coordinator and Director of International Education, Ohio Colleges Association (1980-85).

Languages: Pashto, Persian, Urdu, Arabic.

Field Experience: Field research in collaboration with scholars from Afghanistan, Pakistan and Turkey. Research Interests: Middle Eastern and Central Asian politics; ethnic and linguistic groups in Central Asia and Middle East.

Major Publications: "Keys to Understanding the Middle East" e-book and textbook for "Introduction to the Middle East; "Inside Afghanistan 23 Years After the Soviet Withdrawal" Journal of Asian and African Studies, 48(2), 2013; "For Afghans, A Start," Newsday Editorials, September 18, 2005; "The Ahrari Waqf in Kabul, 1546, and the Mughal Naqshbandiyyah," Journal of American Oriental Society 119.1, Jan- March 1999; "Afghanistan's Relations with It's Neighbors," Critique, 8, 1996; "Evolving Alternative Views on the Future of Afghanistan: An Afghan Perspective," Asia Survey, 33 1993; "Soviet-Afghan Relations from Cooperation to Occupation," The International Journal of Middle Eastern Studies, 21, 1989. 
Dissertations/Theses supervised: 8

Distinctions: President, Board of Eastern Summer Consortium in Persian and Turkish 1999- Present; Nominated for Outstanding Teacher Award (1994) by Committee of Arts and Sciences Student Council; Recipient of International Outstanding Staff Award for contributing to International Studies and research at OSU (1992); "Homeland Insecurity: War on Terrorism," The Ohio State University Alumni Magazine, November 2003, pp. 26-27.